Mining Image and Video Data
Junsong Yuan
Description
Motivated by the previous success in mining structured data (e.g., transaction data) and semi-structured data (e.g., text), it has aroused our curiosity in mining meaningful patterns in non-structured multimedia data like images and videos. Although the discovery of visual patterns from images and videos appears to be quite exciting, data mining techniques that are successful in business and text data may not be simply applied to image and video data that contain high-dimensional features and have spatial or spatio-temporal structures. Unlike transaction and text data that are composed of discrete elements without much ambiguity (i.e. predefined items and vocabularies), visual patterns generally exhibit large variabilities in their visual appearances, thus challenge existing data mining and pattern discovery algorithms. This tutorial will discuss the state of the art of image and video data mining, and provide in-depth studies on some of the recently developed techniques. The topics cover the co-occurrence visual pattern discovery, context-aware clustering of visual primitives, topic model for pattern discovery, as well as their applications in image search and recognition, scene understanding, video summarization and anomaly detection, intelligent video surveillance, etc.
Biography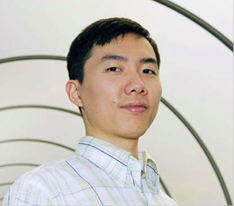 Junsong Yuan received his Ph.D. from Northwestern University, USA. Before that, he received M.Eng. from National University of Singapore and B.Eng. from Special Class for the Gifted Young at Huazhong University of Science and Technology, China. He is currently a Nanyang Assistant Professor at Nanyang Technological University (NTU), Singapore. He also serves as the program director of video analytics at Infocomm Center of Excellence, School of EEE, NTU.
Dr. Yuan has published more than 90 papers in peer-reviewed journals, conferences, and book chapters. His PhD thesis "Mining Image and Video Data" received the Outstanding EECS Ph.D. Thesis award from Northwestern University. He also received the Best Doctoral Spotlight Award from IEEE Conf. Computer Vision and Pattern Recognition Conference (CVPR'09). Since Aug. 2009, he has been the PI or joint-PI of over S$4.2M research grants. He is the co-chair of CVPR 2012 Workshop on Large-scale video search and mining (LSVSM'12), and the co-chair of IEEE CVPR 2012 and 2013 Workshop on Human action understanding from 3D data (HAU3D'12'13). He has served as area chair, special session co-chair, program committee member, and reviewer for many conferences and journals, and will be the organization co-chair of Asian Conf. on Computer Vision (ACCV) 2014. He has filed three US patents and two provisional US patents.